HYPOXI is a low impact exercise that targets stubborn fat and reduces cellulite in specific areas. Its effective, user-friendly technology offers so many benefits to your body.
It is a revolutionary weight loss system that targets pesky lumps, bumps and areas of cellulite that are very difficult to remove with standard forms of exercise (e.g. jogging or gym workouts). Weight loss and cellulite reduction is achieved using lymphatic stimulation, low-impact exercise, and improved circulation via one of our special machines.
So if you are looking to get fit, lose weight, fit into that fabulous dress (or suit) for that special occasion, or tone some areas of your body that seem impossible to lose even small amounts of weight from, HYPOXI may be the solution for you.
Below we'll explain more about why HYPOXI was invented, what celebrities endorse the treatments, and what you can expect from your first visit to our body boutique in Bulimba.
Why was HYPOXI invented?
HYPOXI was first developed for high-performance athlete rehabilitation. But has now grown into a treatment program that can assist everyone with weight loss. So whether you are very active or inactive and overweight, HYPOXI has something to benefit you.
What Celebrities endorse HYPOXI?
Celebrities including Robbie Williams, Madonna and Cheryl Cole all swear by the benefits of HYPOXI. And in terms of Australians, Zoe Foster Blake was an ambassador of HYPOXI.
What to expect at your first HYPOXI treatment?
What happens at your first HYPOXI treatment will depend on what machine/s you use. But regardless of your particular session, there are a few things that are constant. For example, our studio is light and bright, and our staff are always happy and welcoming.
What is recommended after a HYPOXI session?
After a HYPOXI session we recommend that you don't eat carbohydrates or exercise for at least 6 hours. It's also very important to consume plenty of water after a treatment to help flush out toxins and keep hydrated. This will give the best weight loss results.
Will I notice immediate results?
After your first HYPOXI session you will likely feel refreshed and healthier. However, to see more significant results from HYPOXI, you'll need repeat sessions.
HYPOXI is not a magic pill, but it is a highly effective way to rid yourself of fat and cellulite from certain areas of your body. And the bonus of HYPOXI is that it feels a lot more like a beauty treatment than a gym session.
Client questionnaire
On your first visit you'll be asked to fill in a basic client questionnaire. Before treatment can begin, we need to gather some information about you, including any medical conditions. Our priority is to make sure you are safe and looked after at all times.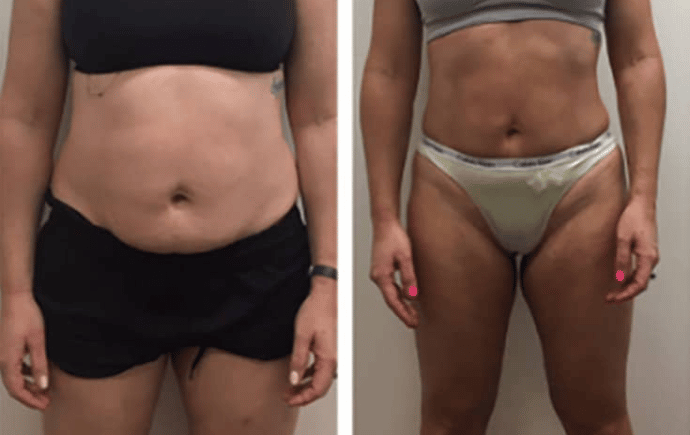 HYPOXI Dermology
If you choose to use our HYPOXI Dermology(HD for short) machine, we'll get you comfortable in studio and fit you with a special suit that looks a little bit like a scuba diving wetsuit. Around your waist you'll see a series of pipes and hoses connected to the suit. These then link up to the HD machine, which tones and rejuvenate your skin using 400 integrated pressure chambers positioned around your stomach, buttocks, thighs, legs and back.
The effects of the HD machine are modelled after an ancient Chinese technique called 'cupping'—although there are a few differences. For example, the experience of HD is more pleasant and about 100 times more effective. What does it feel like? We've had clients describe it as 'lar
ge bubble wrap popping against their skin' while wearing the suit.
HD works by stimulating your circulation and blood flow to areas of your body where there is stubborn cellulite and excess weight. It also detoxes and tones.
HYPOXI L250
Our HYPOXI L250 looks like a cycle machine from the future. Before beginning the session, you'll be fitted with a small piece of material around your waist that also looks a similar to a wetsuit and has a rubber ring at the bottom.
Then it's time to hop into the machine, lie down and begin peddling the bike. The L250 machine will hum through a regular pattern of switching between compression and decompression as you cycle.
The machine works by artificially stimulating your blood supply to the fat and tissue around your stomach, hips, buttocks and thighs. Here it's enriched with fatty acids before being taken from the problem areas and consumed by your body as fuel.
During the session you can lie back and read a magazine or book, or even check your phone, as you cycle and keep your heart rate at a certain level.
HYPOXI S120
The S120 device integrates three forms of therapy into one to provide a range of benefits. By combining exercise, low pressure, and high pressure, this device is capable of stimulating blood supply to the tissue around the hips, buttocks, and thighs, which is then enriched with fatty acids. The negative pressure phase is gentle and is followed by a compression phase that enhances blood flow to the muscles being exercised.
Advanced technology and computer software are used to create a personalized program for every client that takes into account their specific needs. During the treatment, heart rate and skin temperature are constantly monitored to ensure that the client is making progress towards their goals.
The 30-minute program is designed to burn off fatty acids that are transported directly from the targeted area and use them as fuel for movement.
Book your first session with HYPOXI
Contact us at HYPOXI Bulimba to book in your first session, and discover how our treatments can change your life.